October 1, 2021 | Scores | Aubaine Wines
Aubaine Blog: Wine Enthusiast Review (Chardonnay)
Honored, excited, and thrilled to have received a score of 93 from Wine Enthusiast on our inaugural 2019 Aubaine Chardonnay!
As stated in the banner picture below:
"Aubaine 2019 Anahata Vineyard Chardonnay (Eola-Amity Hills). Aubaine is a new proje ct from Andy Lytle of Lytle-Barnett and Winemaker Isabelle Meunier of Lavinea. Planted in 2015, thus young vineyard's debut is a strong one. It's impeccably balanced with pinpoint citrus and tree fruits, crisp and tangy acidity, a touch (20%) of new oak and long finish that wakes up the taste buds."
-P.G. of Wine Enthusiast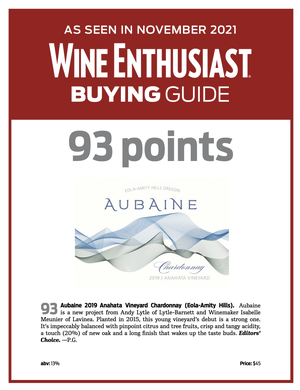 Look for us in the November Issue of Wine Enthusiast!
Comments
Commenting has been turned off.
Sign Up For Our Newsletter
Keep up to date on the latest wine releases, events, and promotions here at Aubaine Wine!