Our Story
Aubaine is a high end boutique project of single vineyard and estate only Chardonnay and Pinot Noir. Pronounced "Ō-Bane," Aubaine is the French term for Windfall which is one of the estate vineyards that will be used in future vintages, starting in 2024. The green wave on the label represents the Eola-Amity Hills, and the blue wave represents the winds of the Van Duzer Corridor. Our inaugural release was the 2019 vintage, coming from our beautiful Anahata vineyard.
We currently have two separate estate vineyards. The first is AtTheJoy, a high end luxury retreat surrounded by the Anahata vineyard. The name of the vineyard is the Sanskrit word for the heart chakra, with blocks named after translations of the word JOY. Planted in 2015 to various clones of Pinot Noir and Chardonnay, Anahata is the first offering of our single vineyard estate wine project.
Our second legacy property is the Windfall vineyard. A 117 acre masterpiece which sits on the west side of the Eola-Amity Hills, staring directly at the Van Duzer corridor. The winds passing through this corridor create the perfect environment for the southwest facing vineyard, which will soon show wines of world class beauty. Long warm days with cool nights perfectly create the ideal growing experience for our Pinot Noir and Chardonnay.
---
Owner // Andy Lytle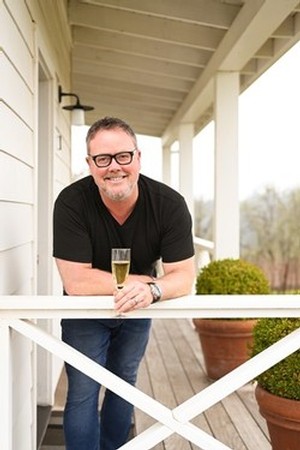 After 30 years in beverage alcohol and an ever growing passion for the wine business, Andy has discovered that the best wine and vineyards are usually labors of love. The Eola-Amity hills is where he set his sights to build two legacy properties where world class wines can be produced.
Aubaine is currently made from our Anahata vineyard and it is created to be a true reflection of the terroir of the Eola-Amity Hills in the Willamette Valley. Andy feels this area reflects his passion not just for wine, but for the very special culture of winemaking and vineyard growing that has emerged in Oregon. In 2013, he also co-founded a high end sparkling wine project called Lytle-Barnett that sources from vineyards throughout the Willamette Valley.
Andy has three children who have all shown interest in the wine business. He lives with his family in Seattle, WA and proudly serves on the board of the Children's Cancer Association, having previously helmed the board for seven years.
---
Winemaker // Isabelle Meunier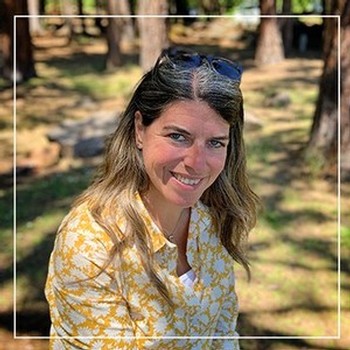 A native of Quebec, Isabelle Meunier studied winemaking and viticulture at the University of Dijon in Burgundy, and in New Zealand at Lincoln University. For years, she mastered her skills under the mentorship of some of the world's most revered winemakers; French-Canadian Pascal Marchand at Domaine de la Vougeraie in Burgundy, Blair Walter at Felton Road in New Zealand, and Dominique Lafon of Domaine des Comtes Lafon.
Isabelle moved to the Willamette Valley in 2007 to start the Evening Land project which she oversaw until 2014. Shortly after, she started her own winery venture, LAVINEA, an artisan production of distinctive single-vineyard Pinot Noir and Chardonnay. She has embraced the opportunity to involve herself in select winemaking projects, one of those being our award winning Aubaine wine project. Isabelle is excited to contine exploring our wonderful estate vineyards and to expertly craft many future vintages from these amazing sites.
---
Wine Club Director // Rachel Pedersen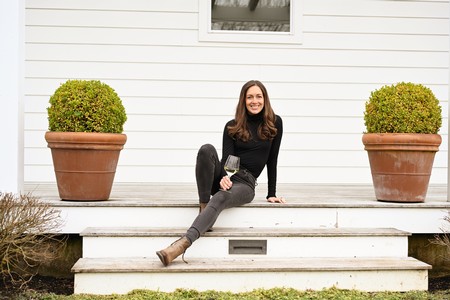 After starting her wine career with RNDC in Denver, CO, Rachel and her husband decided to change things up and make a move to Tuscany, Italy. During their five years in Italy, Rachel transitioned to Direct to Consumer sales, creating wine clubs for a handful of Italy's top wineries and wine shops. In 2020, they decided to begin splitting their time between the US and Italy and, shortly after, purchased a home in beautiful McMinnville, OR.
Rachel joined the Aubaine team in 2021 to manage the wine club and all DTC programs. She brings over a decade of industry experience with her and has immediately become a valuable asset to our wine club members and team.
---
Marketing Manager // Avery Lytle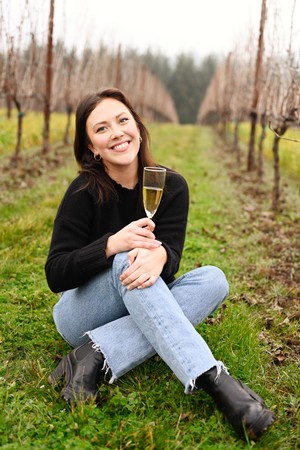 Having recently received a Bachelor of Science in Business Marketing from Oregon State University, our winery is excited that Avery decided to begin her marketing career with Aubaine. She joins our team with a long family history in the wine and spirits industry and this has influenced her professionally and ignited a passion for all that the wine industry encompasses. As the daughter of Andy Lytle, Avery has embraced the chance to join the family business.
"Having the opportunity to work with my dad is a tremendous blessing. He is my biggest role model in both my personal and professional life."
Avery joined the Aubaine team as an intern in the summer of 2020 and, in 2021, she was promoted into the role of Marketing Manager. Daily, she demonstrates strong brand and communication experience while also representing Aubaine at various industry trade events throughout the Pacific Northwest.
Sign Up For Our Newsletter
Keep up to date on the latest wine releases, events, and promotions here at Aubaine Wine!